How Long Does Bankruptcy Last?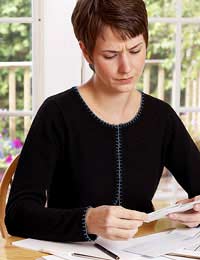 The normal time for a bankruptcy order to last is twelve months. This is often an attractive proposition when compared to the sixty-month duration of an IVA. Bankruptcy is not only in force for a much shorter time but the amount you pay back is a lot less too. After you reach the end of the order and are discharged, most of your debts are wiped clean. You effectively have a clean slate. Make the most of it and don't get into further debt. More debt problems now, could result in a longer Bankruptcy order in the future. Bear in mind, that although you will be clear of debt, credit reference agencies will keep a note of your bankruptcy on file for six years.
What Happens if I Pay What I Owe Early?
If you manage to repay your obligations before the end of the bankruptcy order the person in charge of ensuring your adhere to the order can petition the court for early
Dismissal
or annulment.
What if I Can't Pay?
If you do not manage to meet the conditions of the bankruptcy order thena court appointed receiver can apply to the courts to have your dismissal delayed giving the
Creditors
more time to get their money back. You must make all the payments that are required of you to be discharged. If your dismissal was delayed before 1st April 2004 then you will need to contact your local
Bankruptcy Court
to see when you can be discharged. You can apply after a period of five years for a dismissal but this is at the courts discretion
Future Plans?
If your home was subject to the bankruptcy order but was not dealt with before your discharge, don't assume that it is safe. Your assets can be sold at any time in the future, even years later. If you want to make sure this doesn't happen you can get your partner or family member to buy your share in the property, thus keeping it in your name. The money you get should satisfy the order requirements.
Can I Keep the Assets I Inherited During My Bankruptcy?
You have to declare any assets you acquire during your bankruptcy order as they may need to be sold to pay your creditors. It is also worth noting that you are required to make sure that you support your
Trustee
even after discharge. As mentioned before the consequences of bankruptcy can be far reaching.
The overall time that a bankruptcy lasts can, therefore, vary depending on how you comply with your order. The more effort you make the more lenient the court is likely to be. If you are obstinate and awkward then the court will take a dim view of your behaviour and will probably be more harsh with its ruling. The best thing to do to ensure that you are discharged as early as possible is to make every effort to pay back the money, be honest and show remorse. A court wants to be sure that you will not do the same thing again the minute you are discharged.
You might also like...
I was made bankrupt over 20 years ago and my private pensions are due to be paid will they go into my bankrupy
COXY
- 1-Apr-15 @ 4:29 PM
@Cg - I'm afraid we can't offer personal financial advice on problems such as this, you would have to see a legal advisor who can tell you the best route to take.
BecomingBankrupt
- 13-Feb-15 @ 1:49 PM
We've been trying to pay off my husbands bankruptcy by a ltd company run by me selling a property & paying it for him. It looks like the sale may fall through. He's been bankrupt since September 2014. We have a house together with an interest only mortgage. Half the equity isn't enough to pay off his bankruptcy which totals £33k if we keep the mortgage payments going will they still take our house. What stance would the mortgage company take?
My now ex-husband was declared bankruptwhile we were still together about 2 years ago but he failed to declare the property that he had a third part ownership with his parents as part of their business. I don't understand how this could have been overlooked and I feel that although we are no longer together he now has a viable asset whereas I have been left with nothing even though the bankruptcy was his.
shirl
- 1-Aug-13 @ 6:49 PM
I was made bankrupt about 10 years ago I have just learnt that I have been left a small sum of money in a will. The solicitor handling the will ask in his letter to me have I been made bankrupt.What is my position? Thanking you MY Roberts
eve
- 16-Jul-12 @ 9:26 PM
I think it needs to be pointed out that the normal period is 3 years before being discharged - I had loan and credit card debts and was automatically given 36 months. Those with debts due to gambling can expect up to 10 years before being discharged. Everyone keeps going on about a 12 month discharge - that was lost on me - maybe as it was dealt with by the High Court - Holborn, they were possibly harsher - I dont know. I recommend bankruptcy - especially if you havent any assets - Ignore your friends and family that say dont do it. Smart people go bankrupt. Debt causes Death - Dont take your creditors advice to get an IVA - they dont care about you,they care about their money - look how your banks harass you with bailiff letters,threats of this and that - treat people as they treat you.Wave goodbye to the banks - theyre bad company. Good Luck!
Pub by 4pm
- 12-Jan-12 @ 2:30 PM