How Winter 2010 Threatened Small Businesses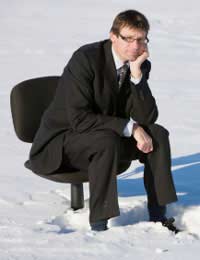 The winter of 2010/11 was one of the coldest since records began. The average temperature of the winter season was an extremely chilly -0.8C (32F). The continued snow and icy conditions also played havoc with small businesses across the UK.
Fears for Small Businesses
According to the Centre for Economics and Business Research, up to a thousand small businesses found their livelihoods under threat from bankruptcy as a result of a cold snap. The Centre estimated that the extreme winter weather in 2010 affected about one-fifth of the UK economy, and cost about £1bn in lost revenue each day the temperature was below zero.
Bars and Restaurants Hit Hardest
Those small businesses which depended on cashflow, such as bars and restaurants suffered the most, as the cold weather drastically reduced their customer inflow. The harsh winters also meant that the Christmas period, often the most profitable time of the year for smaller businesses, was particularly lacklustre.
A Less Than Merry Christmas
Small businesses were counting on a profitable Christmas to help to make up for a difficult 2010. In fact, many had taken on additional seasonal staff and increased their orders to help cope with an expected increase in demand, ahead of January's Value Added Tax (VAT) rise from 17.5% to "20%.
In reality, however, the Christmas period was a poor one. In the crucial weekend before Christmas, with trains cancelled and buses and tubes facing heavy delays, and with delivery vans stuck in depots, most Christmas shoppers and revellers had little choice but to stay at home.
As a result, the seasonal 'footfall' (the number of customers that come through the door) was down by as much as 30% when compared to the previous Christmas period.
Can Government Intervention Help?
Of course, the last thing that the Government wishes to see is another wave of small business bankruptcies, as were experienced back then. For small businesses though, it is getting increasingly difficult to keep bouncing back after several years of worsening conditions.
The Federation of Small Businesses has been calling on the Government to make a greater effort to give smaller businesses as much assistance as they need to keep their businesses afloat and stave off bankruptcy during these difficult times. Some of their suggestions include insisting that banks offer greater flexibility and understanding when extending credit to smaller businesses, and giving them more time to pay if they come into difficulty.
Other helpful measures could include HMRC extending its 'time to pay' scheme that allows small businesses to defer tax repayments until their cashflow situations improve. Landlords should also be encouraged to keep rental costs as they are, and put off any potentially disastrous rent increases until the economic climate improves.
You might also like...