Guide to Bankruptcy: Bank Accounts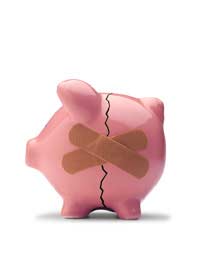 People who undergo bankruptcy often express their surprise about how relatively minor things that they used to take for granted are suddenly no longer are available to them. Bank accounts are a clear case in point.
One of the problems with filing for bankruptcy is the effect it has on your bank account, which will remain frozen during the term of your bankruptcy and, in many cases, will be closed.
So how should bankrupts cope without a bank account and what alternatives are open to them? How are their wages paid and how do they and keep paying their bills?
Most people think that once they are in the bankruptcy process they are forgotten about, and left to fend for themselves.
Fortunately there are financial services still available to most people, including three main banking options:
Managed bank accounts
Prepaid bank cards
Basic bankruptcy accounts
Managed Bank Accounts
Managed bank accounts are proving increasingly popular with the larger numbers of people filing for bankruptcy. The main selling point with a managed account is that your acceptance is guaranteed, regardless of your debts or financial situation.
You are usually eligible for a debit card, or prepaid mastercard, with which to shop and to make cash withdrawals and you will be able to use internet and telephone banking. You can even arrange standing orders and direct debits to be taken from your account.
Companies such as Card One banking offer managed accounts whereby, for a set up fee and for a monthly fee you can open a bank account. For these fees you will be able to open a bank account with most of the facilities of a standard current account.
Of course the main drawback with this type of account is the associated costs. You will need to pay the set-up fee (usually around £30) and a monthly fee of £12. You will also not be able to arrange an overdraft, personal loan or other borrowing on the account.
If you can afford the administration fees, however, a managed account is a good way to get back some of the financial control you used to have before declaring bankruptcy.
Prepaid Bank Cards
There are a number of prepaid bank cards now on the market that present themselves as alternatives to having a bank account. Again, with most of these cards acceptance is guaranteed.
You simply arrange to have your wages deposited onto the card and then you are free to spend the balance on your financial commitments, either by withdrawing cash or using the card in the same way as a standard debit card. You can also arrange to have bills such as electricity and gas paid, all done either online or by telephone.
Alternative Bank Accounts for Bankrupts
Most of the high street banks also offer basic bank accounts for bankrupts, although it usually depends on your bankruptcy status.
For example, if you are an undischarged bankrupt you can apply for a Barclays Cash Card Account, whereas those who have already been Discharged from Bankruptcy can also apply for a NatWest Step Account or a Royal Bank of Scotland Key Account.
If you apply for one of these accounts you will need to provide the usual forms of identification. You are not guaranteed to be approved with these accounts, so the banks will run a credit check to determine your status.
Make sure that your credit report has been updated to include the information that you are a discharged bankrupt, otherwise the bank will reject your application.
Making Your Choice
Choosing the most appropriate way to handle your finances during or after bankruptcy is very much a personal choice. You may find that you prefer to use a managed bank account and you are willing to pay the fees associated. On the other hand you may prefer to get a standard bank account from one of the high street banks, provided you can pass their credit checks.
You may even find that a prepaid debit card takes care of all your financial requirements. Whatever your preferences, there are banking options available to those who have been declared bankrupt.
You might also like...