Bankruptcy Discharge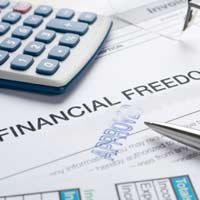 Bankruptcy discharge is the final step in being free from the debts that you had when the bankruptcy order was originally made. Discharge normally takes place around twelve months after bankruptcy was declared, but if the official receiver finishes his investigation into your affairs and presents his findings to the court before the twelve months is up, you may be discharged sooner than the normal one year period.
As we discussed in another Bankruptcy Restriction Orders, the official receiver can apply for a restriction order that means you will be subject to certain restrictions for a determined period after the discharge takes place. This will not however, affect your discharge, it will take place as normal and your outstanding debts will be cancelled at that point. Be warned though, if you have not fully co-operated with the official receiver, or you were appointed an Insolvency Practitioner as a trustee in place of the official receiver, your discharge could be delayed upon their request.
Discharge Certificate
To obtain a discharge from bankruptcy, even if you never had to make a single payment to your
Creditors
, you don't have to apply to get it granted, it is normally automatic. You will be informed when you have been discharged as a matter of course, but should you require a certificate to prove that you have been discharged from bankruptcy you can apply for a Certificate of Discharge. To obtain this document you should apply directly to the court that served your initial bankruptcy order, in writing, giving all of your details including your case number (found on the top of the court letters) along with the date you are due to be discharged. You should do this no sooner than two weeks before discharge is due to happen.
Once the court receives your request they will contact the official receiver to make sure that the bankruptcy is not subject to any suspension or delay.
How Long Do You Wait for the Discharge Certifcate?
Providing there is no reason why you will not receive an automatic discharge, the court will issue the certificate. You should receive it in around four weeks of your discharge being granted. Also worth noting is that the certificate is not free of charge. At present there is a fee of £60 to obtain a certificate with an additional charge of £1 per official copy. There is also another option to let people know you have been discharged from bankruptcy and that is to ask the official receiver that has been working with you to advertise the dismissal in the press. Again, there is a charge for this and you will have to pay the cost of the publication up-front.
Word of Caution
When discharge takes place bear in mind that certain debts that were exempt from the bankruptcy order will still have to be paid in full. If your debt is a student loan, again due to changes in the law, and you came by the debt after 1st September 2004 you will have to pay in full. If the debt was from before that date you will need to talk to the official receiver to check to see if you still have to pay back the loan.
Due to changes in the law, if your discharge was delayed, often referred to as suspended, before the 1st April 2004 then you should contact the official receivers office that dealt with your case and ask for information on when and how you can be discharged.
You might also like...