Coping With Bankruptcy: Case Study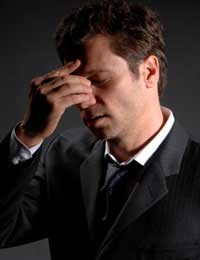 Married with two young children, Andrew (not his real name) was 35 when he was made redundant from his job as a car salesman, with which he used to earn £45,000 a year.
Unfortunately Andrew had been working at his company for less than two years when he was given notice to leave, which meant that he did not qualify for a significant redundancy payout, even though his firm had been generous in giving him three month's salary.
At the time, Andrew had personal debts of around £22,000, including a car loan of £15,000 and two credit card bills. Andrew and his wife also had a joint mortgage of £210,000. After six months passed Andrew was forced to take a lower paid job and was struggling to keep up with repayments on his mortgage, Andrew decided that bankruptcy was his best option.
Andrew didn't take the decision to Declare himself Bankrupt lightly. He took advice before making the bankruptcy application, and when he found out about the steps he needed to take, he prepared himself and his wife Theresa for the worst.
Handing over Control of your Assets
First, Andrew had to make a formal application to the courts to declare himself bankrupt, and paid £485 for the privilege. After his request had been accepted, Andrew then had to meet with his officially appointed receiver to make a comprehensive list of all his assets and his debts, and to handover the control of his assets. From this point on, Andrew's financial decisions were no longer in his hands.
The official receiver made valuations on the family home, their car and other items that the court considered 'non-essential', such as the flat screen television, Andrew's golf clubs, even the children's computer games consoles and luxury goods that the family owned.
Andrew was relieved that because his personal debt of £22,000 was a relatively small sum, the official receiver decided that there was no need to sell the family home to pay his creditors. Other bankruptcy applicants are not so fortunate.
Andrew's mortgage lender had to be informed of Andrew's bankrupt status, but fortunately they were sympathetic to his situation. As Andrew had taken another job, he had demonstrated a willingness to keep repaying his debts. So, instead of starting proceedings to have the property repossessed, they agreed to accept reduce mortgage payments over a twelve-month period.
Duties During Bankruptcy
Over the course of Andrew's bankruptcy he was required to maintain regular contact with his official receiver, who monitored his new 'basic' bank account (without any borrowing facilities) and maintained the payment plans agreed with his creditors. Andrew was given a strict budget and the rest of his wages went on paying his creditors.
Andrew was told to have no contact with any of the companies he owed money to during this period, which made his life easier because he could focus his time and attention on working hard at his new job and helping his family adapt to living on reduced means.
Andrew was aware of the social stigma that has always been attached to bankruptcy, but he found that his employers were sympathetic to his situation. Also, his family and friends rallied round to make sure that the children were happy and didn't want for anything. Family holidays were out, but that just meant they had to think of more inventive ways to keep the children entertained! If a bankrupt person has a wife and family to support, this is taken into account when the official receiver makes an estimate of how much is needed to live on.
Life After Bankruptcy
After twelve fairly unpleasant months of hard work and very little enjoyment and a lower standard of living, Andrew was rewarded when the bankruptcy order was lifted, and he was given a Bankruptcy Discharge. The official receiver informed the court that Andrew had successfully carried out his duties as a bankrupt over the twelve month period.
Andrew paid off a portion of his personal debts over the period of bankruptcy, and the rest was written off when the bankruptcy was discharged. Andrew knows that he will struggle to get credit for a few years (his bankruptcy notice will remain on his credit report for at least six years).
Fortunately for Andrew, he is progressing well in his new job and he and his wife are able to manage their mortgage repayments (now back to their full amount) fairly comfortably. Andrew feels that he has learned a harsh - but vital - lesson about the dangers that come with over-relying on credit.
Andrew feels that opting for bankruptcy was the right move for him, but he is grateful that the official receiver allowed him to keep his own home, for his sake and the sake of his family. Bankruptcy is not for everyone, and should never be considered as the easy option, but as with Andrew, in many cases it is the best solution available.
You might also like...