Take Our Bankruptcy Questionnaire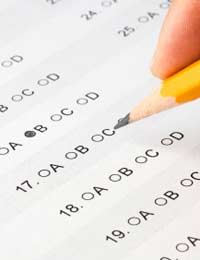 When it comes to bankruptcy, everyone has a different view.
Some people consider it to be an 'easy way out', while others think it's a shameful admittance of personal failure.
If you are struggling with debt, have recently lost your job or you feel that your finances are rapidly getting out of control, take our bankruptcy rating questionnaire. Could bankruptcy be the answer for you or is there another option?
Find out whether your personal circumstances indicate whether bankruptcy may be an option for you to consider.
1.How old are you?
(a) 18 - 30 years old
(b) 30 – 45 years old
(c) 45 – 60 years old
2. Living arrangements: do you…
(a) Own your own home?
(b) Rent?
(c) Live with parents or relatives?
3.Debt: how much personal debt do you have (excluding mortgages)
(a) More than £20,000
(b) Between £10,000 and £20,000
(c) Less than £10,000
4.Credit: have you applied for and been refused credit in the last six months?
(a) Yes, more than three times
(b) Yes, between one and three times
(c) No
5.Employment: are you concerned about losing your job in 2009?
(a) I have just been made redundant
(b) I am currently at risk of losing my job
(c) I'm fairly certain that I won't lose my job
6.In arrears: are you falling behind on your mortgage, rent or debt payments?
(a) Yes, I have missed one or two payments
(b) I am worried I might not be able to make my next mortgage or rent repayment
(c) No, I am confident I can continue making my debt repayments
7.Have you sought professional help to help you manage your debts?
(a) Yes
(b) No, but I plan to in the near future
(c) It's not something I have considered
8.What is your personal view of bankruptcy?
(a) A good way to start afresh
(b) Don't have an opinion on it
(c) Something shameful that should be avoided at all costs
9.Have you been threatened with eviction, or been visited by bailiffs in the past twelve months?
(a) Yes
(b) I have received warning letters
(c) No
10.Do you feel that you are running out of options and that drastic action is needed to get you out of debt
(a) Yes, I think that bankruptcy is my only option
(b) I now feel I need outside help to get out of debt
(c) I am starting to feel that I am my debts are getting out of hand
How did you answer?
Mostly As
- you currently have a high level of debt, and you are struggling to repay these debts. You may feel that your financial circumstances are precarious or you may have already lost your job as a result of the economic downturn.
In these cases, bankruptcy is an option worth considering, although you should bear in mind that if you risk losing your personal possessions to repay your debts, including your home if you own it, and you will face Long-term Consequences from your status as a bankrupt, even after your bankruptcy has been discharged.
If you haven't already, you should seek Professional, Impartial Advice that will take your personal circumstances into account and help you decide on the way forward.
Mostly Bs - your debts are causing you concern, you are worried that your job may not be entirely secure and you are finding it harder to keep up your debt repayments and you are struggling to pay your bills from month to month. If you do not own your own home, or you are single without family ties, you may feel that deciding to file for bankruptcy is a step worth taking, because you will not lose your home.
Your landlord however, may not be happy renting out property to someone with a bankruptcy order against them. You should try not to bury your head in the sand and take action to manage your debts before they get out of control and you run out of options apart from bankruptcy.
Mostly Cs - given that you have taken part in this questionnaire you have concerns about your finances. Perhaps you are starting to feel the pinch from the credit crunch. However, your level of personal debt is not yet at critical levels.
This could change though, if you were to lose your job (and very few people can consider their job as 'safe' in today's economy), you could find yourself in more serious trouble.
If you feel that bankruptcy is something that should be avoided at all costs, you should try to reduce your debt levels, and think about taking out income protection that could come in very useful if you did lose your job unexpectedly.
You might also like...