Getting Help When in Financial Difficulties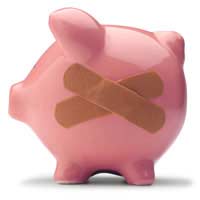 Getting help at the right time is crucial if you want to avoid getting into serious financial difficulties. Money is often viewed as a taboo subject and is not talked about with partners or family. This is why debt problems are often ignored until it is too late. Discussing the situation with someone, even a debt counsellor, could have helped avoid impending Bankruptcy for many.
Beware of Quick Fix Adverts
You may have seen adverts in the local press, TV, or online offering to solve your debt problems easily and without a fuss. Others offer to wipe out 75% of your debt and get you debt free in sixty months, what they don't tell you is that this little known government legislation is in fact an
IVA (Individual Voluntary Agreement)
and could cost you your home.
Many others are brokers and merely want to sell you their debt solution products. It is true, they can help you solve debt problems, but for a fee. You can get the same advice without cost from organisation such as the Citizens Advice Bureau. They have trained advisors, often people who have been in trouble themselves and have come through the other side, to help you. They understand your embarrassment and will help you to deal with the problem before it gets overwhelming.
Like all problems in life it is better to get advice before it gets too serious. When you miss a mortgage payment, max out a credit card or are only paying back the minimum amount on other cards you are getting signals that you are losing control of your Finances and now is the best time to deal with it. If you ignore it, it won't go away it will merely escalate and spiral out of control until you are headed for bankruptcy. Once you are headed down that route it is very hard to stop it without offering to pay your creditor in full before it reaches court. The problem with that is there is normally more than one debt and it is unlikely that you can pay all of them off without winning the lottery.
Not your Fault
Sometimes problems can arise when the reason for your default is outside of your control. You may become disabled, long term sick, lose your job or suffer a bereavement. It is imperative at that point you contact your creditors and explain your situation. If you have taken out payment cover on cards or loans you will be able to make a claim after a certain period. They will be able to advise you of this when you call them. Many providers are sympathetic and will do their best to help; after all they want you to pay back the money. In the case of bereavement if the person that died has an estate or life insurance this should cover most of the debts. Again, contact the providers and explain the situation. You will have to provide a death certificate and other relevant paperwork, but they will advise you on how to proceed while the deceased person's estate goes through probate.
Remember, debt is a serious thing. Ignoring it doesn't make it go away, it only makes it worse.
You might also like...