Finding a Solicitor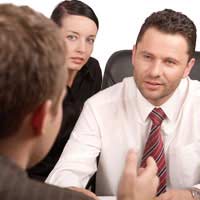 When facing an issue as serious as bankruptcy, it's important that you take the advice of a solicitor specialising in this field. You should never try to deal with this situation on your own as it is far too complex.
You may have had contact with a solicitor during your house purchase or dealing with a relatives will and feel that because you have had dealings with them in that past that they are the best people to approach to help you now. That is not true. Those people specialised in conveyance and family law, you need a solicitor that deals with Bankruptcy every day and knows how the system works in order to get the best deal for you.
Where to Look
There are many places online where you can search for solicitors in your location. You can also ask the Citizens Advice Bureau if there's anyone they recommend, as they too deal with people in your situation all the time. When you have the details of all the solicitors in your area, don't just jump at the first one on the list and agree to let them represent you. Make appointments with them all, take a list of questions and choose the one who you think will best represent your interests. Some solicitors may be really busy and not give you the time you need to sort everything out. By shopping around you ensure you get the best deal. Remember, that the first appointments are usually free, but it is worth checking beforehand.
Among the questions you should ask the solicitors are:
Can you take on my case?
How much will it cost?
Can I get legal aid?
How many similar cases have you handled recently?
Do the benefits of bankruptcy outweigh the negatives?
How long will it take to be settled?
Am I entitled to legal aid?
There are many more things that you may want to ask, and it is imperative that you make a list and write down the answers so that you can compare them later when making a decision on whom to get to represent you. Remember, you are the client and it is your right to shop around for the right solicitor for you.
Warning!
When you have chosen a solicitor that you want to work with, they will have to adhere to a set of professional rules. These rules are known as 'solicitor conduct rules' and are enforced by the SRA. Any solicitor who fails to meet the standards sets by the SRA will be dealt with severely by them. If you feel that you are being unfairly treated by your solicitor you should complain to the SRA outlining your grievances.
A point worth noting here is that there are some shady solicitors, thousands in fact, amongst the genuine ones. Many have been struck off and have started trading again illegally without permission of The Law Society. Make sure that you are working with a fully qualified and registered solicitor before proceeding. No one would take you on to do brain surgery without checking your qualifications and credentials – nor should you when asking someone to sort out your finances.
You might also like...
I wana get advice regd: bankruptcy
Pama
- 23-Aug-14 @ 4:27 PM