Petitioning the Individual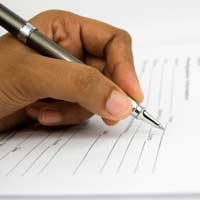 It is perfectly legal for an individual to file for bankruptcy. It is however, also possible that your creditors will file to make you bankrupt too. This is called petitioning the individual. At this point you will have to apply to that court to administer the bankruptcy order. There will be a charge for this. The court has the power to reduce the fee, but the deposit amount has to be paid in full. Also remember that you have to file in the County Court in the district in which you live.
When you apply you will have to fill in two documents, the debtor's petition (form 6.27) and the Statement of Affairs (form 6.28).
The Debtors Petition
This form is normally filled out by people who have been in business and can't afford to pay back the debts incurred. It is aimed more at sole traders than larger concerns, although if you file as an individual and not as a company you will need to fill in this form.
The petition has to be presented at either the county court where you lived, or where you have traded in a six month period. You will need to contact your local county court and ask if they deal with bankruptcy hearings as not all county courts do. When you get legal advice your solicitor will tell you where your case will be heard and help you prepares all the relevant paperwork.
The Statement of Affairs
We have looked at this document in greater detail
previously
, but here is a recap of the basic information to be included in this document. Again, it is imperative that you fill this document in truthfully as if you are proved to being giving false information the consequences can be dire.
There are many pages to this document and it must be filled in correctly, so make sure you have all the relevant details available to you before you fill it in. You will need details of:
Your mortgage lender
Value of your home including equity available in it
Secured creditors, unsecured debts
Your vehicle, your bank account details including savings, personal valuables
CCJ details, bailiff details
An offer of payment if you are able (although if you are not able to offer more than £200 a month creditors won't be interested as it costs more to administer than they gain)
Details of your current income
Once you have filled in all the paperwork you must then get it sworn by a solicitor or a court official.
Note:
Before filing the petition take your money out of your accounts to live on. You will have to declare how much you have, but you are allowed to withdraw it for living expenses.
If you owe less than £20,000 pounds it is unlikely that the court will grant bankruptcy and are more likely to refer you to an insolvency practitioner to arrange for the provision of an IVA. You will ultimately have to pay more money back but the disadvantages are far less than with a bankruptcy.
You might also like...