If I Declared Myself Bankrupt Would That Include Any CCJ'S?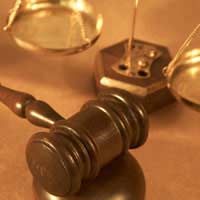 Q.If I declared myself bankrupt, would that include any CCJ'S?
(Mr Tim Belby, 6 January 2009)
A.
As the effects of the credit crunch really start to hit home, personal insolvencies are on the rise. When it becomes impossible for an individual to deal with debts on their own - in reality, when their outgoings outstrip their income to the point where reigning in spending is impossible - bankruptcy is sometimes the only option. Indeed, Bankruptcy can be a good choice for those who are ready to seek help with their debts, and who want a fresh start.
County Court Judgements
As you have illustrated, many people considering bankruptcy will already have County Court Judgements (CCJs) against their name. A CCJ is the result of a County Court Claim made against you by a creditor. It means that the Court has upheld the creditor's assertion that there is a debt to be paid, and that it is outstanding.
The purpose of bankruptcy is to arrange a means by which a debtor can pay off as much of what they owe as possible, in a way that will not cause undue financial hardship, and clearing the remainder. Eventually a bankruptcy will be Discharged; this normally takes a year, and after this point the debts are written off.
Settlement
A bankruptcy applies to all of your debts, and so a CCJ would indeed be included. There are however, a number of caveats to this. In the first instance,
Creditors
are under no obligation to mark outstanding CCJs as 'settled' on your credit rating, even after your bankruptcy has been discharged, unless the debt was paid in the intervening time. Some individuals report however, that the County Courts will sometimes mark CCJs as settled if you provide a copy of your bankruptcy notice along with a £10 administration charge.
It is also worth remembering that, like a bankruptcy, any outstanding CCJs will disappear from your credit history in six years anyway. You will find it virtually impossible to get credit in the intervening period, so it is unlikely to make much difference from this point of view.
You should seek advice on your specific circumstances from a specialist. The Citizens Advice Bureau or the National Debt Line will be able to help.
You might also like...
Ok question if anyone can help,?? I went bankrupt In 09/2012 and was discharged 09/2013 , today 25/10/2014 I have just got in post court papers for a debt that was in on my bankruptcy this was a joint loan from my ex wife they were chasing her for 3k she has got same papers issued by court herself , problem is with paper they have sent is using my middle name as firstloan was not even taken out in that name sent them the forms back with my bankrupcy petion no assuming this is just a mess up ??
Rob
- 25-Oct-14 @ 8:24 PM