The Hearing Explained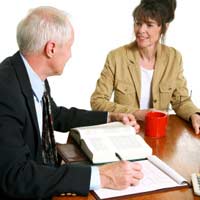 When you have filled in the relevant forms to claim bankruptcy you will have to go along and get them sworn. As we have seen you can get this done by a solicitor or a court official. Once you have handed them in at the county court in your local area that deals with bankruptcy you will be given a date for your petition to be heard. Don't be shocked however, if the court is able to hear your case immediately.
Bankruptcy hearings are heard at the county court and it is vital that you attend. The court will look carefully at your application and decide what course of action to take. Again, don't go in thinking that the court will solve all your financial problems for you. Sometimes the court may think that it is in your best interests to reject the bankruptcy petition in favour of a different course of action; such as an IVA.
If the court find in your favour and grant the petition for bankruptcy, the order will be effective immediately and all your bank accounts will be frozen from that point. That is why you must withdraw your money before attending the court as once the order is made your finances are under the control of the official receiver.
In effect the court can make one of three decisions at your hearing and they are:
To dismiss your application
To grant the bankruptcy
To put the case on hold while they request further information in order to decide
Summary of Administration Certificate
You have the right to request a Summary of Administration certificate. This certificate simplifies the whole bankruptcy procedure and allows the official receiver to proceed without carrying out his investigations into your affairs. If the court does not mention this certificate, ask for one as they cannot be issued at a later date. It also means that everything has to be dealt with by the receiver in two years and not the normal three year limit. However, if it is found that one was issued and you have been untruthful it can be revoked and investigations will be carried out.
Official Receiver
When you have your order the
Official Receiver
will want to see you. They will make an appointment to discuss your position in detail. This is nothing to be afraid of, official receivers are human too and they are sympathetic to people who have ended up bankrupt through no fault of their own. Once you have been interviewed your
Creditors
will be informed of your bankrupt status. However, your creditors will not be the first people to be paid, that will be the courts and the official receiver, after that, if there is any money left, the creditors will be paid. Many creditors avoid taking people with difficulties to court to file for bankruptcy as they stand to get little or none of their money back.
During the period of the bankruptcy you will be expected to co-operate fully with your receiver. You must do everything you are instructed to do in order to avoid the bankruptcy being extended. After you have completed the term you will then be discharged. Your official receiver will tell you when you are Discharged. At that point any money you still owe will be written off, but as we have seen before if your Home was part of the bankruptcy order the receiver has up to three years to sell it to realise capital. Apart from that, you are free of debt after discharge.
You might also like...