Famous Bankrupts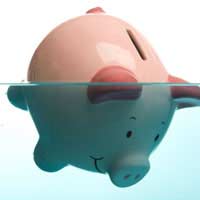 When faced with bankruptcy you may think that you are alone, but in fact nothing could be further from the truth. There are many bankrupts. Many who have been millionaires have still faced bankruptcy. Many of them have then gone on to have successful careers and once again reach that magical figure. Some however, have not learned from their experience and have gone into bankruptcy a second and third time.
You may wonder how people with such amazing wealth managed to go bankrupt. The message here is that it can happen to anyone, some through their own doing and some through circumstances beyond their control. If the stars can bounce back, so can you.
Have a look through the list of international celebrities who have been made bankrupt below and see how many you recognise and see if you can guess who has done it more than once.
How many do you know?
Abraham Lincoln - American president
Al Jolson - Singer
Andy Gibb – Singer
Anna-Nicole Smith - Playboy centrefold
Barbara Bel Geddes -Actress
Bill Roache – Actor
Bjorn Borg - Pro tennis player
Burt Reynolds -Actor/Author
Buster Keaton – Actor
Chaka Kahn – Singer
Charles Goodyear - Tyre manufacturer
Chris Eubank – Boxer
Cyndi Lauper – Singer
Daniel Defoe - Author
David Irving – Historian
David Van Day – Singer
Debbie Reynolds – actress
Don Jonson – Actor
Donald Trump – Businessman
Eddie "The Eagle" Edwards - Ski jumper
Francis Ford Coppola - Film maker
Frank Baum – Author
Gary Coleman - Actor
George Best - Football star
Handel - Composer
Harry Saltzman - Film producer
Henry Dunant - Red Cross founder
Henry Ford - Automobile manufacturer
Henry John Heinz - Condiment manufacturer.
Isaac Hayes – Songwriter, composer
James Abbot McNeil Whistler – Artist
Jerry Lee Lewis – Singer
Jim Davidson – Comedian
John DeLorean -Car maker
Kevin Maxwell - Mirror pensions
Kim Basinger -Actress
King Edward II - 14th century English king
L. Frank Baum - Writer
Larry King - Talk-show host
Lionel Bart - British composer - lyricist - playwright
Lynne Spears - Mother of Britney
Mark Twain - American author
Mark Twain – Author
Marvin Gaye – Singer
MC Hammer -Singer
Meat Loaf - Singer
Michael Barrymore – Presenter
Mick Fleetwood – Singer
Mickey Rooney – Actor
Miguel de Cervantes - Novelist
Mike Tyson - Boxer
Milton Hershey - Founder of Hershey's chocolate
Natalie Cole – Singer
Oscar Wilde – Poet and author
P.T. Barnum - The Great American circus owner
Philip II -King of Spain
Rembrandt - Dutch painter
Tammy Wynette - Country music singer
Tom Petty – Singer
Toni Braxton – Singer
Ulysses S. Grant - 18th President of the USA
Walt Disney – Founder of Disney
William C. Durant - Founder of General Motors
William Fox - Cofounder of 20th Century Fox
Willie Nelson – Singer
Wolfgang Amadeus Mozart – Composer
This list is by no means exhaustive, there are many, many more famous bankrupts but this give you the idea of how common the problem is even amongst the rich and famous.
Remember
When you facing bankruptcy remember you are not alone, many others have been here before you and you won't be the last. Talk to someone and get help. By doing so you may be able to avoid being made bankrupt. Being in trouble financially does not automatically mean that you will go bankrupt. Ignoring the problem, especially with secured loans or a mortgage, can mean that it may happen. Although being bankrupt does not have the same social stigma that it did when some of the above were made bankrupt, it is difficult to recover from it. Lenders will be wary of you and you will find it very difficult to get any credit without paying very high interest rates for at least six years after discharge.
You might also like...
Following the sale of our house our divorce will be settled but there has been accrued marital debt prior to the divorce and unpaid mortgage, electric etc.. I am unemployed due to health problems and no likely hood of employment. My ex is employed and is earning will they be held responsible for all of the debt?
paisley
- 4-Oct-13 @ 4:55 PM