New Online Bankruptcy Procedures Could Spell Trouble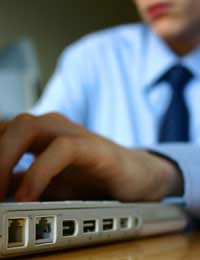 Under new government plans, a fast-track method of declaring yourself insolvent could take the sting out of filing for bankruptcy. The new plans have, however, been criticised by many debt counselling groups who believe that making bankruptcy easier could spell trouble, and create more problems than it solves.
People who wish to Declare Themselves Bankrupt will soon have the option of doing so online, thereby avoiding a potentially lengthy and daunting court procedure, according to the latest proposals from the Government.
Why Change the Bankruptcy Rules?
The proposals were thought to have been introduced after a government study revealed that in some parts of the UK debtors who wished to declare themselves bankrupt were facing delays of as much as three months between first petitioning the court with the bankruptcy order and for the order to be granted.
Of course, during this wait many people have found their debts spiraling further out of control and found themselves at the mercy of bailiffs and loan sharks. The rule change is expected to allow bankruptcy petitions to be heard, and decisions to be made, in a matter of days rather than taking weeks or months, as is all to often the case.
It is believed that the online proposals will cover those cases where an individual has made a personal application for bankruptcy, which accounts for 80% of all bankruptcy cases. The remaining 20% of bankruptcy cases are those where the creditor who is owed money has made the petition and these cases will still be required to be heard in court.
Although the proposals were first introduced by the Labour government, it is widely anticipated that after a lengthy consultation process, the Conservative-Lib Dem coalition will continue with the initiative. This is because bankruptcy has increased by significant numbers in the last year.
Bankruptcy Levels are Increasing
Figures compiled by the Ministry of Justice make grim reading. Personal insolvencies are on the increase and are up by almost 20% already this year, compared to the same time last year. Home repossessions are also reaching worrying levels. They have been rising by 3% quarter on quarter, according to figures from the UK's Council of Mortgage Lenders.
The Ministry expects that personal insolvencies will continue to rise this year as a result of individuals unable to repay their debt, rising unemployment levels and greater tax burdens as a result of the tax rises and spending cuts planned by the this Government.
Small wonder then, that the government is considering ways in which it can make the bankruptcy process simpler and ease the burden on people about to become financially insolvent.
The Hidden Dangers of Speeding up the System
There is alarm, however, within the insolvency profession from debt counselling groups who fear that by making the process of bankruptcy simpler, it could create problems in a number of ways.
Firstly, by making the process simple to complete online, they argue that instead of being a well-thought out solution to an unpleasant personal situation, people could declare themselves redundant on the spur of the moment, perhaps even after a drinking binge, and then live to regret their decision the morning after the night before.
Insolvency practitioners have also expressed concern about what could become known as 'malicious bankruptcy' whereby someone's personal information could be used against them to declare them bankrupt. The victim may not even realise something is amiss until their financial affairs – and even assets such as their home – are taken away from them. Some people may even lose their job as a result of a bankruptcy not of their choosing.
The previous government was keen to stress that the new system would be safeguarded against malicious activity, and that anyone filing for bankruptcy would be required to pay a petition fee, which should deter any frivolous users. They were also quick to point out that bankruptcy should still be considered as the 'last resort' for people with high levels of Debt.
What is clear, however, is that whilst providing a fast-track towards bankruptcy may prove beneficial for those people needing to find a quick resolution to their debt problems, for an increasing number of people the temptation to go online and find a 'quick fix' to their financial problems may not be the best approach for them.
You might also like...